Devices for People with Disabilities
BME 460L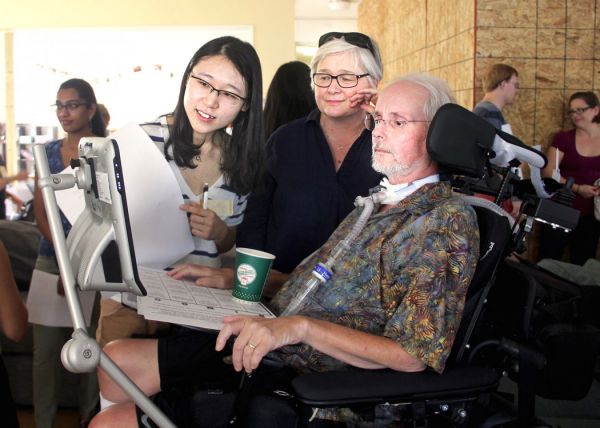 Course Overview:
Design of custom devices to aid disabled individuals. Students will be paired with health care professionals at local hospitals who will supervise the development of projects for specific clients. Formal engineering design principles will be emphasized; overview of assistive technologies, patent issues, engineering ethics. Oral and written reports will be required. Selected projects may be continued as independent study. Course includes a service-learning component involving work in the community.
An excerpt from a wonderful article about a former student Rhianna Lee, and her experience with the course:
"During middle school I decided that I wanted to do medical research, specifically for cystic fibrosis, trying to find a cure," says Rhianna. "At first I thought about becoming a clinician, after seeing how big of an impact the doctors and nurses have had on my brother, but then I realized that's more like treating symptoms. They do a great job of that and are really important, but I wanted to try and fix the problem a little bit earlier."

With that lofty goal in mind, Rhianna spent her high school years intensely studying math and science. She began reading about cystic fibrosis, which led her to learn about biomedical engineering.

And that led her to Duke.

As one of the nation's premier biomedical engineering programs—and just a few hours away from home—Duke was an obvious choice. After spending a summer on campus in Duke's Talent Identification Program—built to identify and challenge academically gifted children—her mind was made up.

"When I got into Duke, it was very exciting for my entire family," says Rhianna. "They knew how much I wanted to go here."

Designing Devices for People with Disabilities

During Rhianna's time at Duke, she's taken advantage of a wide range of opportunities to explore various aspects of biomedical research and engineering—while keeping her goal of combating cystic fibrosis firmly in mind.

Beginning in her sophomore year, she took a bus to the University of North Carolina – Chapel Hill, where one of her math professors had used his connections to get her a spot in a cystic fibrosis laboratory. For the next 18 months, Rhianna traveled 45 minutes each way, three days a week, in addition to her regular classwork.

In her senior year, Rhianna worked in the neuroengineering laboratory of Duke's Jonathan Viventi. While focused on hardware design, the experience has been valuable for understanding what research entails, she says.

"But perhaps her most rewarding experience was in BME 460: Device Design for People with Disabilities. The 20-year-old class—taught by Kevin Caves for the past 13—is a semester-long capstone senior design course for biomedical engineers. Caves spends the summer scouring Durham and its surrounding communities for people or service providers who need help.

"I'm looking for people with problems for whom solutions don't exist, or with existing solutions that we could make significant improvements to," says Caves. "The class challenges students to design, build, prototype, test and build a device that will actually get used by real people after they're done."
Watch! Learn more about the device Rhianna and her team built in this course:
See other student projects here.
Learn more about the professor: 
Kevin Caves researches technologies for people with disabilities. Recent projects include the development of brain computer interface (BCI) technologies, the use of sensors to assist older people and individuals with disabilities live more independently and safely at home, and telerehabilitation techniques to improve delivery of assistive technology services.
SPECIALTIES: Technology and Design for People with Disabilities, Assistive Technology, Augmentative and Alternative Communication (AAC), Rehabilitation Engineering, Computer Technology
In this Duke Today article Caves talks about a 3-D snap-on casing that turns a doorbell into a potentially life-saving alert system.