Devices for People with Disabilities
BME 490L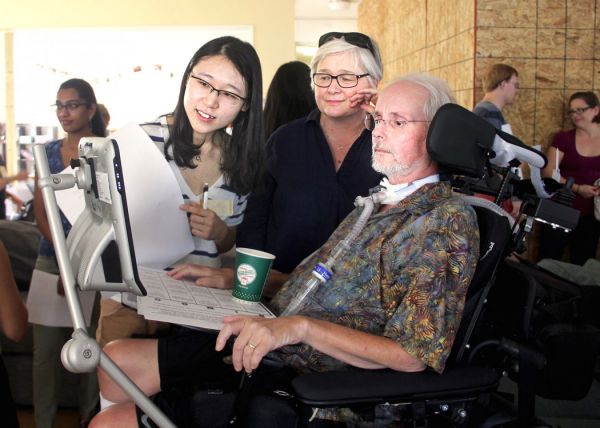 In this dynamic course, students apply engineering skills to a real-life situation. In groups of three or four, students design and build a custom devices to aid an individual with a disability. Health care professionals in the community partner with the students to supervise the development of projects for individual clients who vary from about 4 to 80 years of age. More than 150 devices have been made by students in Duke BME 460L for people with disabilities in the local community.
Goals for the course include students being able to:
Design and construct a device to meet the need of a person with a disability.
Perform a quantitative analysis of the device and/or design.
Apply appropriate statistical methods during the design process. 
Work as a team (e.g. with other students, the client, the client's therapist, teachers, etc.) to devise a safe and effective solution.
Prepare an oral presentation to clearly describe the work performed and outcomes.
Prepare a written report describing the project and outcomes, including professional-quality technical drawings and user's manual.
Research and discuss an ethical issue in biomedical engineering.
"A major challenge this class offers our students is the open-ended problem - there is no one right way to solve the client's need," explained Professor Goldberg, a past professor of the course. "Students may know what to make but now how to do it. They have to learn manufacturing skills and consider all the issues of people with disabilities."
 
Most students have not worked previously with people with disabilities or built devices that will be used everyday by a client. Safety and durability become important factors to consider. Learning to interact effectively with the client's clinicians is also a new experience for many students.
 
"It's a really unique opportunity to see how you can make a difference for an individual," said Professor Goldberg. "This is the chance to apply what you have learned in the real world."
Service-Learning in BME490L
The service experience is integrally related to the academic subject matter of this course, allowing students to develop their engineering skills while assisting a person in the community.
Many different non-profit community partners have graciously agreed to welcome Duke engineering students. Examples include the Durham Public Schools, NC Sports for Kids, OE Enterprises, and Bridge II Sports.
Each student contributes significantly more than 20 hours of service working in a student group to:
meet the individual client and their support team
design and build the device
test the device
train the client on how to use the device
Professors of this class estimate that at the beginning of the term each student will spend 5 - 10 hours a week working on the client's device and anywhere from 10 - 20 hours a week near the end of the term. 
Students consistently say that the time put into this class is well spent. 
For more information, visit the course website showcasing many student projects, or read this article.
Reflections
"This was one of my favorite classes at Duke. The intensive hands-on design process allowed us to build upon skills learned in class while giving us the opportunity to aid a client in the community. It was a very rewarding feeling to deliver our final product and see our client put it to use!"
— Matt Brown, student
 
"Of all of the courses I took at Duke, this will be the one that sticks with me the longest. It takes a class like this to really understand what engineering is all about. Certainly my team faced struggles and lost some sleep, but all of that was worth it on the delivery date when we saw the smiles of our clients and knew that our efforts made their lives a little brighter."
— Maggie Smith, student
 
"It was the first class at Duke in which I had an opportunity to work directly with a client. The class is rewarding both in learning the intricacies of the design process and in seeing your own work improve your client's quality of life."
— Boying Shui, student
 
Learn more about the professor: 
Kevin Caves researches technologies for people with disabilities. Recent projects include the development of brain computer interface (BCI) technologies, the use of sensors to assist older people and individuals with disabilities live more independently and safely at home, and telerehabilitation techniques to improve delivery of assistive technology services.
SPECIALTIES: Technology and Design for People with Disabilities, Assistive Technology, Augmentative and Alternative Communication (AAC), Rehabilitation Engineering, Computer Technology
In this Duke Today article Caves talks about a 3-D snap-on casing that turns a doorbell into a potentially life-saving alert system.