Farmworkers in North Carolina: Roots of Poverty, Roots of Change
DOCST 332S
This course is based on experiential service-learning. Students partner with Student Action with Farmworkers, a non-profit that places students with migrant farmworkers in North Carolina. The focus is on those who bring food to our tables, particularly those who labor in the fields of North Carolina and the Southeast. Students will learn about farm work from the plantation system and slavery to sharecropping and up to the migrant and seasonal farmworker population today.  Students will have a chance to hear from the farmworkers who work in a different country than where their family is, and why they made that sacrifice.
"It's really powerful to break bread with somebody who is really in a different reality that the bubble that some students might find themselves in. It can be really transformative," says Professor Chris Sims, who taught the course in Fall of 2017.
Students will reflect on their experiences through readings, class discussion and writing.  "It's not a class where there will be a traditional research paper, but one that seeks to ask the students to think about this issue holistically," says Professor Sims.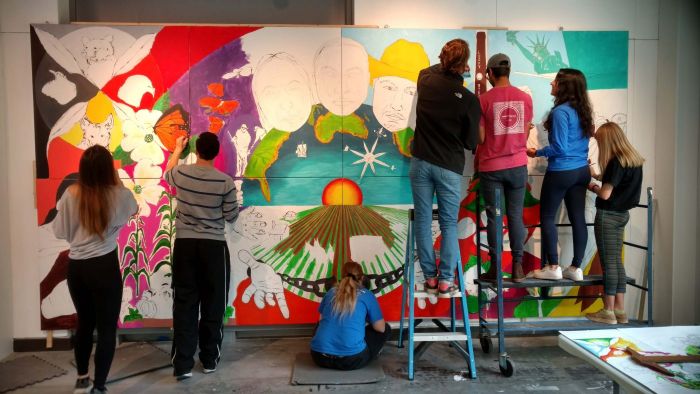 To learn more about what to expect from this course, take a look at a photo essay from Fall 2018, an article about the farmworkers mural student project, or watch the course overview video below:
---
About the Professor:
Charles D. Thompson, Jr. is Professor of the Practice of Cultural Anthropology and Documentary Studies at Duke University. A common thread through his work is a deep concern for people doing their all to have a voice in our agricultural systems.
Thompson holds a Ph.D. in religion and culture from UNC-Chapel Hill, with concentrations in cultural studies and Latin American studies. He also holds an M.S. degree in Agricultural Education from NC A&T State University. His particular interests include farmworkers, immigration, agriculture, and Appalachian Studies. His methodology includes oral history, ethnographic writing, documentary filmmaking, and collaborative community activism.
A former farmer, Thompson remains concerned about laborers within our food system. He has written and made films about small farmers and farmworkers. He is an advisory board member of Student Action with Farmworkers, the Duke Campus Farm, and other food and agricultural initiatives.
Thompson is author or editor of six books. His latest (2015) is, Border Odyssey: Traveling the Valley of the Shadow of Death. He also wrote Spirits of Just Men: Mountaineers, Liquor Bosses, and Lawmen in the Moonshine Capital of the World. He is also editor, with Melinda Wiggins, of The Human Cost of Food: Farmworker Lives, Labor, and Advocacy.
Thompson is the producer/director of five documentary films, including Faces of Time (2015), Brother Towns/ Pueblos Hermanos (2010), We Shall Not Be Moved (2008), and The Guestworker (2007). His latest film, in collaboration with the organization, Farm Aid, is entitled, Homeplace Under Fire (2016).