Digital Documentary Photography: Education, Childhood, and Growth
DOCST 209S / DOCST 209FS
Course Overview:
Few experiences are more vital than childhood!  Using digital photography and a documentary approach, this course will explore one of Durham's public schools.  Each Duke student will produce a semester-long project that speaks to the heart of the school, the teachers, the students, or the community.  
Through each project, students will explore meaningful topics, give a voice to their subjects and think about the issues that grow out of change. Collectively the class' body of work will show the life of the school and the community.  
Website project from Fall 2018:
This is a service learning course, and the culmination of the class will be a student exhibit and website launch which will take place publicly at the school.  All prints and the website are given to the school as a gift.  Discussions on ethical issues that emerge as a result of digital photographic impermanence. This is a Focus Program Course for Knowledge in the Service of Society. Consent of instructor required. 
About the Professor: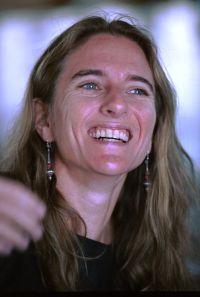 Susie Post-Rust is a veteran magazine and newspaper photojournalist who spent more than two decades documenting the lives of people in more than twenty countries. Her passion throughout her career has been in-depth documentary projects that reveal small communities and the people who live in them. For more than ten years she worked for National Geographic magazine, while also contributing to Life, U.S. News & World Report, Newsweek, and the New York Times, as well as nonprofit charity groups, including World Vision, the North Carolina Food Bank, Food for the Hungry, and Compassion International. In 1986 she was honored with the prestigious Robert F. Kennedy Journalism Award for Coverage of the Disadvantaged in recognition of her photographic essay Jerry: A Troubled Mind, the story of one man's battle with Alzheimer's Disease.
Post-Rust has taught at Duke since 2006. Her courses enable Duke Students to engage with the community outside university. She works to impart the experience of producing in-depth visual storytelling to her students. Most of her courses are service learning and involve a component of giving back to the community.
She has an MA in journalism from the University of Missouri at Columbia and a BSBA from the University of North Carolina at Chapel Hill.
Post-Rust's work can be viewed at susiepostrust.com
Crosslisting Numbers:
ARTVIS 212S
VMS 212FS
EDUC 209S
Information Science + Studies
VMS 212S
Curriculum Codes:
ALP